Bride "In Charge" Wearing Pants and Groom "Not In Charge" Without Cake Toppers
| | |
| --- | --- |
| Price: | 3.0~5.0 USD |
| Payment Terms: | tt |
| Place of Origin: | Jiangsu, China (Mainland) |
Product Detail
Production Capacity:
20000000
Means of Transport:
sea shipping

Dimensions: Hand painted resin.
2 1/8" x 2" x 6" H


giftpacking.net offers one of the newest and largest selections of cake toppers and wedding cake toppers including monogram cake toppers, unique cake toppers and much more. Each wedding cake topper is manufactured by us or chosen from the best suppliers to make your wedding cake tops unique, custom and personalized. Whether you are looking for wedding cake toppers, anniversary cake toppers, or birthday cake toppers let giftpacking.net be your source for all the hottest cake toppers online.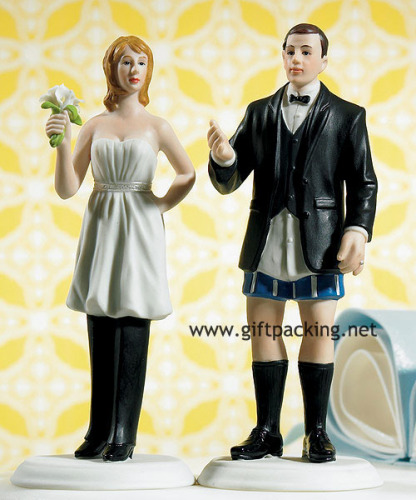 Bride "In Charge" Wearing Pants and Groom "Not In Charge" Without Cake Toppers
E-mail this to a friend


There is no doubt who "wears the pants" in this couple (figuratively and literally). A fun and just a little cheeky cake topper intended to make you smile. Mix and match with our other interchangeable cake toppers if desired. Or if this is the perfect representation of you and your beloved then order these two!
Bride in Charge "Wearing the Pants" Figurine
Porcelain Bisque - Hand Painted
2 1/8" x 2" x 6" H

Groom "Not in Charge" Minus His Pants Figurine
Porcelain Bisque - Hand Painted
2" x 2 1/8" x 6" H
Related Search
Find more related products in following catalogs on Hisupplier.com